From Snap on man to Snap on manager, moving up through the ranks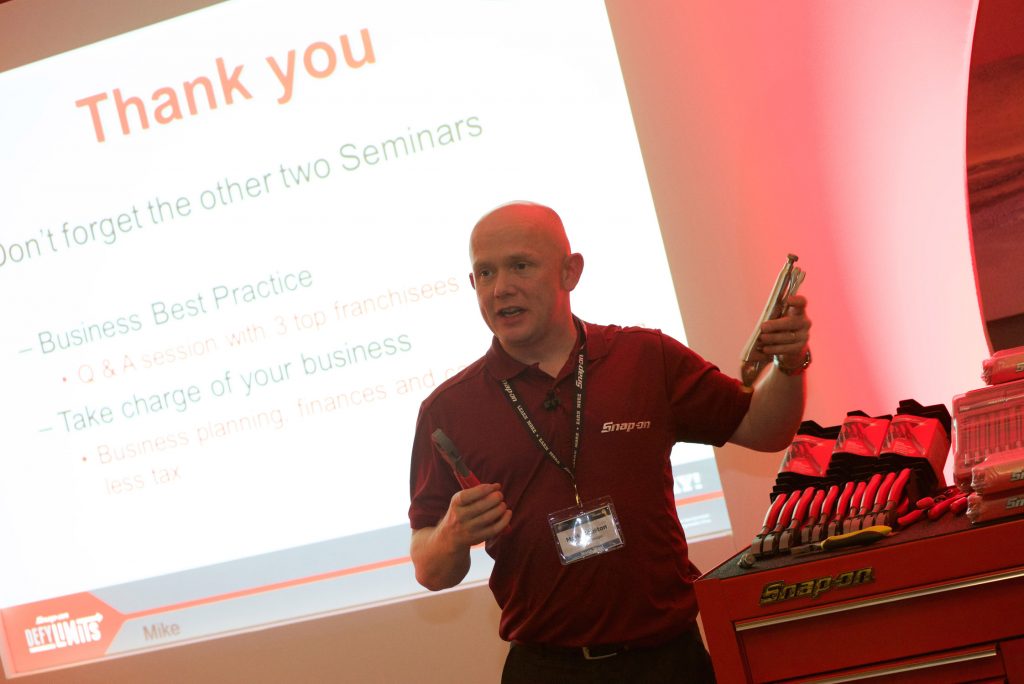 Much like many other determined ex-servicemen and women, Mark Houston found Snap-on after leaving the armed forces in 1993.
After several years running his own profitable Snap-on franchise, Mark, 44, was given the opportunity to take on a new role within the Snap-on management team. Here, Mark explains how he came to build his career with Snap-on after leaving the army – and how others, like him, can progress through the ranks.
Can you tell me a bit about yourself and your background in the Armed Forces?
I came from a military background – my father served in the army for 22 years. He was never stationed in one place for too long so we spent a lot of my childhood moving around the country and, because of that, my education suffered. My father had such passion for the forces that I decided to follow in his footsteps, leaving school at 16 to join the Royal Engineers. Being in the army suited me down to the ground. I'm a hard worker so I just kept my head down and got on with the training. I was also given support with my English and Maths studies, after struggling at school. It was invaluable to finally get proper help in subjects I would go on to use in my adult life.
Why did you leave the army?
Unfortunately, I suffered a pretty awful foot injury. The damage was so bad that I had no other option but to leave. For the first time in my life, I had no real sense of direction. I ended up taking the first job I could find; as a Dental Technician. It paid the bills but I hated it – I stayed long enough to obtain a National Diploma, before joining Snap-on.
How did you come to work with Snap-on?
I joined the Snap-on network in 2001, first as an employee of an existing franchisee, then later, I became a franchisee myself in Blackpool and Lancaster. Because I'd worked hard to develop the business I was employed in and then went on to build my own successful franchisee too, I put myself on the map with the Snap-on head office team so when a management position opened up, they thought about me for the role. I'd been running my franchise for around five years when the opportunity came up to become a Field Manager, as they were then called, in the North East. It felt like a great chance so I went for it. Within a few short years, I'd built a team of 17 and we were crowned best in the region, two years running. I then moved back to the North West – this time as Business Manager, a role I had for five years.
What is your job role with Snap-on?
In October of last year, I returned to the North East as Business Manager, which involves managing 67 territories. No two days are the same, and I love it! My daily duties can include a variety of tasks; anything from developing business reviews, visiting franchisees on the road and meeting with my management team to monitoring sales and supporting the franchise team with recruitment.
Are there any skills which you picked up whilst in the army that you still use now?
The self-discipline you pick up in the military is invaluable. There's not a clock-in, clock-out system around here, whether you're a franchisee or work for the management team – it's about self-disciplined structure. The armed forces teach you to think on your feet and Snap-on puts that theory into practise!
What are your plans for the future?
I plan to stay with Snap-on for the long haul! As a business, they've been supportive of my career aspirations from day one; I joined with limited qualifications and no real sense of where I wanted to be but they have consistently offered me opportunities to progress.
Through Snap-on, I recently started studying for an MBA (Master of Business Administration) qualification, something I would never have put myself forward for as young man. Achieving this will help me on my path towards a national sales role, which is where I hope to be in a few years.
How does working with Snap-on fit around your personal life?
I have to be honest, even in those early days as a franchisee, I'd work long hours and rarely took a break. As a Business Manager, my role is demanding and it takes a lot for me to slow down – but I wouldn't do it if I didn't love it.
Most importantly, working for Snap-on has given me a good lifestyle. It's meant that myself, my wife and my two sons have a comfortable life; we've even been fortunate enough to buy a second property. It's not all work and no play though! I'm an amateur boxing coach and I always make sure I find the time for that.
Have you got any advice for anyone leaving the armed forces in their resettlement?
Plan for your resettlement at the earliest point possible. I see so many young men and women leave the forces with little to no idea of what options are available to them. The best advice I can offer is keep your options open; explore careers in both the employed and self-employed sectors, and take courses in management and business. Going into management hadn't been something I'd even considered when I joined the Snap-on network all those years ago but working hard and constantly pushing myself opened a lot of doors for me; it's as simple as that.