Join the UK's fastest growing hog roast franchise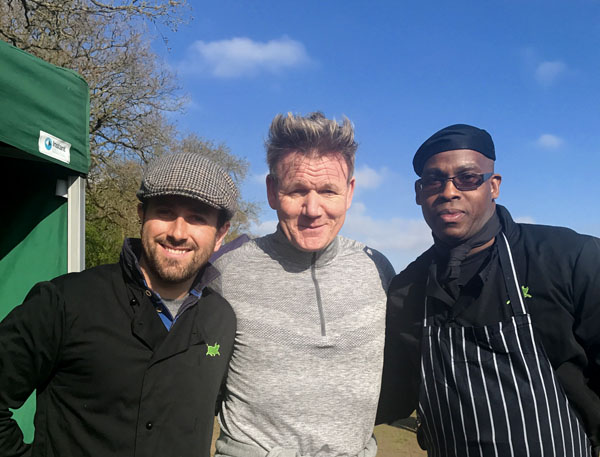 Can't stand the thought of working in an office?
Do you have a desire for working outdoors, cooking on the BBQ and have a can-do attitude? Do you dream of managing your own time and career, taking control of everything from the jobs you take on to the hours you work? It's easier than you think. The Gourmet Hog Roast Company could be the right opportunity for you.
The Gourmet Hog Roast Company is a full-service event catering company specialising in outdoor cooking. Providing hog roasts since 2012 at weddings, private parties and corporate functions.
The Gourmet Hog Roasts' goal is to become the UK's best hog roast and outdoor caterer. Focusing on exceptional customer service and delicious food we are looking to expand our presence UK wide. Become part of the growing success and join the UK's fastest growing hog roast franchise.
Since 2012 the founders of the company have been enjoying the lifestyle and benefits of running their own catering business. Now the Gourmet Hog Roast Company is helping others take control and ownership of their own destiny, creating an enjoyable lifestyle which also unlocks a lot of earning potential, with expected turnovers of £80,000 in year 1.
We provide excellent training and mentorship, helping you to turn your hog roast business into whatever you want it to be, whether that's making some extra money at weekends or launching your own full-time catering company. As an established brand, you'll already have what it takes to stand out from the crowd, with the company providing ongoing support to help you work from anywhere you like.
Running a Gourmet Hog Roast franchise doesn't require you to have any previous catering experience – just a passion for food and delivering excellent customer service. These skills will help you to produce melt in the mouth dishes while giving your customers an enjoyable, positive experience throughout, helping you gain repeat business.
We'll provide all the training and documentation required to run a successful business. A catering company can demand long hours in the busy periods, but this is countered with extended periods of downtime in the off season to relax, travel or spend time with family.
People are joining the Gourmet Hog Roast Franchise from all walks of life. What unites them is the idea that working a 9-5 job in an office is not appealing. The recent pandemic has forced many people to re-evaluate what's important to them, and the idea of having a better work-life balance is becoming increasingly more important.
Some of key features of the franchise opportunity
• High net profits over 30%
• Low start up investment costs 
• First year revenue of £80,000 +
• Pre-paid events only 
Here are some of the key benefits of why people are choosing the Gourmet Hog Roast Franchise
LEAD GENERATION
We'll generate leads for you, removing the hassle that comes with running your own business. You can just concentrate on running the event itself.
A STAND OUT BRAND
The UK is full of various hog roast, BBQ and outdoor catering companies, so it's become increasingly difficult to shine as a start-up business. When choosing the Gourmet Hog Roast, you'll have the backing of an existing strong brand in the event space, and we'll give you everything you need to make sure you stand out from the crowd.
UNLIMITED EARNING POTENTIAL
The benefit of owning your own business is getting back what you put in, meaning that if you put in the hard work, your franchise will become a success. Gourmet Hog Roast franchises can expect to be profitable in their first year thanks to the training and support we provide. 
EXCLUSIVITY TO AREAS
We'll provide a territory area which you'll have total exclusivity to, including all enquiries generated within your designated zones.
LIFESTYLE
Get that all important work-life balance. Have the ability to work your own hours. The idea of a rigid 9 to 5 lifestyle no longer applies – forget about only 25 days of paid leave, you can do whatever you like.
WEB PRESENCE
We provide you with your own web page and ensure your site has a strong presence on popular search engines. You'll be buying into a brand which spends tens of thousands a year on website advertising, just to ensure you're successful.
BACK OFFICE SUPPORT
Not only will we generate the leads for you, but we will help with back office support. We will send out quotes on your behalf, follow up those leads, and then book in the events for you.
TRAINING
You'll get full training and guidance on how to become successful. This includes both online, onsite and on-job training.
MENTORSHIP
Running a business can often be a lonely place which is why we believe in having someone to talk to. This is incredibly important for gaining the support you need, and we offer the mentorship to help guide you to set up and run your franchise.
IS IT RIGHT FOR YOU?
When deciding on whether to invest in a Gourmet Hog Roast franchise, it's important to know if it's the right decision for you. Alongside the greater work-life balance available through this type of work, it's a great chance to follow your love of food under the guidance of a company who have been in your position.
But is it right for you? Let's find out and arrange an informal telephone conversation, then come and visit us, and finally come out on a job with us. Nothing will help provide more clarity than actually cooking a pig on a live event. Get in contact now to start the process.