Take Command of your Resettlement with Screen Rescue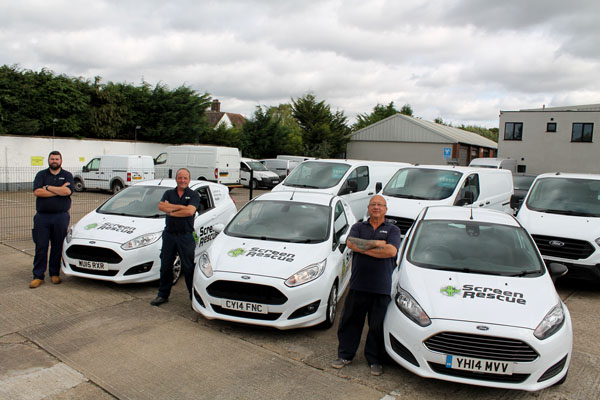 Own and operate a trusted and valued business in the Commercial Automotive Industry with an awardwinning Screen Rescue Franchise
Many service-leavers struggle with the return to civilian life and take up franchise ownership in their mission to find a role that continues to fulfil, motivate, and challenge them.
With transferrable skill sets ideally suited to most franchise systems and a proven business model to follow closely, franchise ownership can provide a robust safety net for ex-forces yearning to be their own boss.
Screen Rescue is the UK's only award-winning franchise providing a wide range of vital, in-demand windscreen and glass repair services to all sectors of the thriving Commercial Automotive Industry, now worth £49bn to the UK economy.
Since 2012, we have become approved suppliers to all main dealership brands from Audi to Volvo gaining an unrivalled reputation for the wide range of windscreen and glass repairs we handle along with the exceptional customer services we deliver.
Our purpose is simple: we repair windscreen and glass damages on a regular and reliable basis rather than replacing them, so that hundreds of our commercial automotive clients continue to make significant savings every day.
These include new and used car garages, freight, haulage, transport, distribution and logistics carriers as well as school transport, mini-bus and coach hire, and public transport. Civil engineering and construction companies together with local government, essential services and major fleet operators all enjoy the 'wow!' factor of our unbeaten repair results.
Screen Rescue provides an excellent opportunity for those seeking the freedom and flexibility of running a van-based franchise from home where the more clients you look after, the more repeat business you carry out; the more you can earn.
The franchise license comes with a large territory designed to deliver the maximum reward for your efforts so you can build a multi-van operation and scale up your franchise in line with your real ambitions.
Full training and award-winning franchisee support is provided in all areas of this franchise business, so no previous experience is required. And the business model is simple to learn; highly profitable and easy to manage. With repeat business and multiple revenue streams, the rewards for hardworking franchisees are unlimited.
There is no better time to join Screen Rescue. In January we collected 'Best Franchisee Support' Silver Award Winner and our Stevenage franchisee, Keith Harrison picked up 'Franchisee of the Year' Gold Award Winner in the VFA22 franchise awards, as judged and sponsored by Barclays Bank.
We are on a mission to recruit ambitious new franchisees with the drive and energy to be their own boss. If you are ready to become a trusted and valued part of the Commercial Automotive Industry, then a Screen Rescue franchise business could be the right resettlement opportunity for you.
THE FRANCHISE PACKAGE
Unlimited earning potential
The rewards for ambitious, hard-working franchisees are unlimited. Our Financial Blueprint is designed so that you can draw an income from day one and take additional dividends by year two. As your business scales up, you can expect increased earnings year-on-year. 
Large exclusive protected territory
Our territories are awarded to you, exclusively. Defined by intact postcode areas, they are designed to deliver the maximum reward for your efforts and contain the correct business mix potential for you to scale up operations at your own pace.
Scalable proven business model
The business model is proven to achieve a turnover greater than £75,000 from each fully established operating van. With the capability of multi-van expansion, we provide the guidance and support to take your business to the next level.
Technologically advanced touchscreen repairs equipment
Already BS AU 242b:2022 compliant, this patented equipment simplifies the repair process of challenging damages competitors must walk away from and activates a faster curing time, so each franchise can carry out repairs more efficiently. 
Unrivalled gqa nvq & 4m advanced repairs training
BSI standards in windscreen repair now take reforms to new levels where working towards British Standards means compliance to a BWSC 4M approach. Replacing elite GQA NVQ training, franchisees will be trained in 4M standards on its launch. 
Multiple revenue streams 
We'll help you win new clients and build a thriving repeat business client base. Every day is varied as you provide a full range of vital, advanced windscreen and glass repair solutions from your own fully equipped branded mobile van:
•All stone chip repairs
•Long & short crack repairs
•Glass scratch removal & polishing – 100% distortion free
•Glass graffiti removal repairs
•Headlight polish & full restoration
10-Day 'boot camp' induction training 
The franchisors train you in all windscreen and glass repair disciplines, business development, sales and marketing, accounts, and operational processes, so you are fully confident in running all areas of your franchise operation.
10-Day in-territory assisted launch with franchisor 
Pre-launch social media marketing direct to your lead base is followed with a tactical in-territory 'buddy system' launch, led by franchisor, Jaime Hilario. This strategy fast-tracks you into business giving your franchise the best possible start.
10-Year renewable franchise license 
No new business is an overnight success, so we're in this together throughout your franchise term. You'll be offered a FOC renewable option every decade (T&CS apply) or if you choose, we'll help you sell your franchise asset later down the line. 
Comprehensive training & coaching programmes
You'll benefit from regular in-territory visits and one-on-one guidance direct from both franchisors to help accelerate your business growth; providing you with ongoing support when and where you need it as your franchise business grows.
Award-winning franchisee support
Investing in this franchise provides you with a wide range of daily support services to maximise your full potential. You'll be awarded full access to our head office award-winning franchisee support team. Think of them as your own staffed office.
Head office invoice, collections & administration support
From a strong franchise background of 23 years, we understand the new cashflow challenges franchisees face. Our award-winning franchisee support team manage your daily invoicing and payment collections so you can focus on your business.
Lead generation
Our award-winning franchisee support team identify and collate your leads from live online government data. Every lead is credit-checked, scored and evaluated to meet tactical launch, marketing and ongoing business development strategies.
QFA (quality franchise association) full members
Screen Rescue are full members of the QFA. Membership is subject to passing a stringent accreditation process and demonstrates a total commitment from the Franchisors to be ethical in their support of incoming and existing Franchisee's. 
The QFA, does not endorse any specific franchise brand, but accreditation does give some comfort to potential franchisees when making their own evaluations. 
KEITH HARRISON,
AWARD-WINNING FRANCHISEE 
"From the start, I was attracted to the level of training and ongoing support you get with Screen Rescue, and I could see the scalable potential of the franchise. I had total confidence in the professional way the franchisors assisted me with my business plan and my tailored financial forecast, and found it was a straightforward process to raise the funds I needed for my working capital.
"It was also reassuring to see the way the franchisors handled the legal company set-up with the accountants, which helped take some of the worry out of starting my new franchise as I had never run a substantial business before.
"All-in-all, it was the one-to-one franchisor training, ongoing support, and unlimited guidance I was offered that gave me the extra confidence to proceed."
Keith Harrison, Screen Rescue, Stevenage
GOLD WINNER VFA22 'Franchisee of the Year'
JOIN US ON OUR OPEN DAY
Join our FREE Open Day at The Cambridge Belfry, Cambourne, Cambridge on July 6th 2022. Learn more about a Screen Rescue franchise in an informal 90-minute session you choose to suit your own schedule. You'll meet both franchisors who will answer any questions you may have about a Screen Rescue franchise. Please call: 01728 860762 to book your place or REGISTER NOW to avoid disappointment as spaces are strictly limited! www.screenrescue.co.uk open-day-booking-form.